Smallrig Nato camera video handle review
This review is posted on http://www.funkykit.com/reviews/smallrig-1982-camera-cage-1955-camera-stabilizing-nato-handle-review/4/
As if the SmallRig 1982 camera cage was not a gem in itself, SmallRig also sent over their best-selling handle, the 1955 camera stabilizing NATO handle.
At first glance, the 1955 looks like an other camera cage handle with a cheese design to allow mounting of various accessories, but on closer inspection, this could be one of the most well though out handles around. Mounting the 1955 handle onto your camera cage requires a short NATO rail for it to clamp onto, and once secured the handle is firmly in place.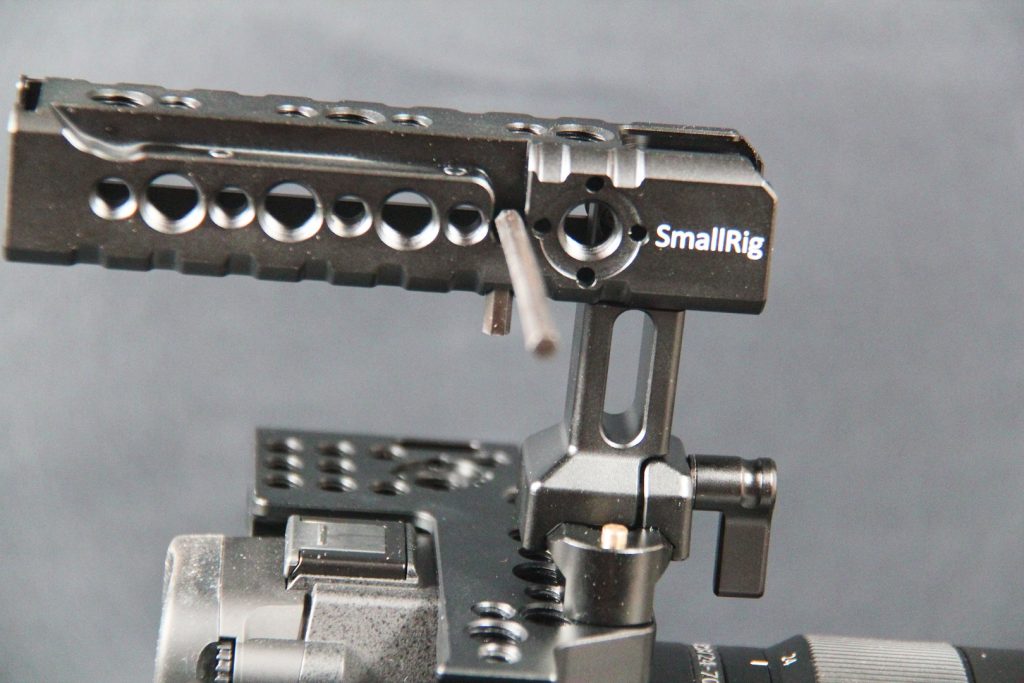 The first bit of surprise of the SmallRig 1955 handle is that there is a hex key built in, which is a god send as I don't have rummage around my pockets and rucksack for a hex key to loosen or tighten the screws with the camera cage. The next bit of great idea in the design of the 1955 is that there are 3 hot shoe slots built into the handle all at different angles, so no matter how and whatever direction you mount it, there's always an available hot shoe slot in the orientation you want to mount say a microphone, and that's not to mention the ARRI locating holes build into it.
And if that was not enough, with a quick loosen of the 2 silver screws along its side, the 1955 handle can be slid forward allow you to adjust it to the grip you want, or in my case with a long lens unbalancing the cage, have the handle slid all the way to the forwards giving me a more balanced handling with videoing at low angles.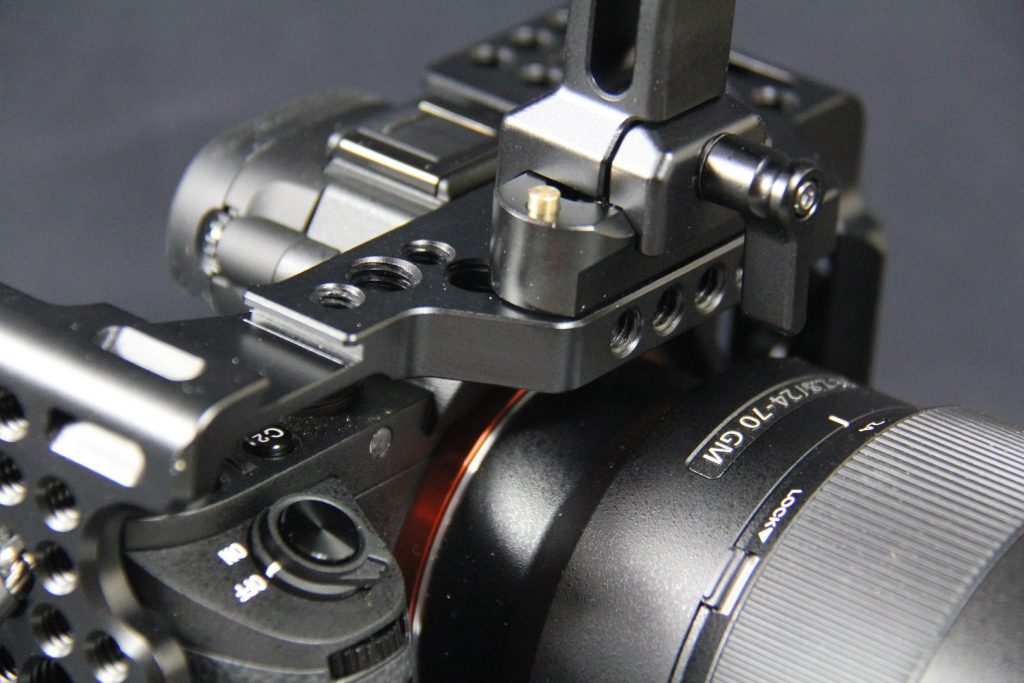 Verdict & Conclusion
I am going to be very honest here and say I used to think having a camera cage on a DSLR video setup was to look a bit fancy and added so much more unnecessary weight. After using the SmallRig 1982 camera cage extensively during our trip to Computex 2017, I must say it has been a godsend and I absolutely love it. When doing video work, the first thing I do now is install my camera into the cage.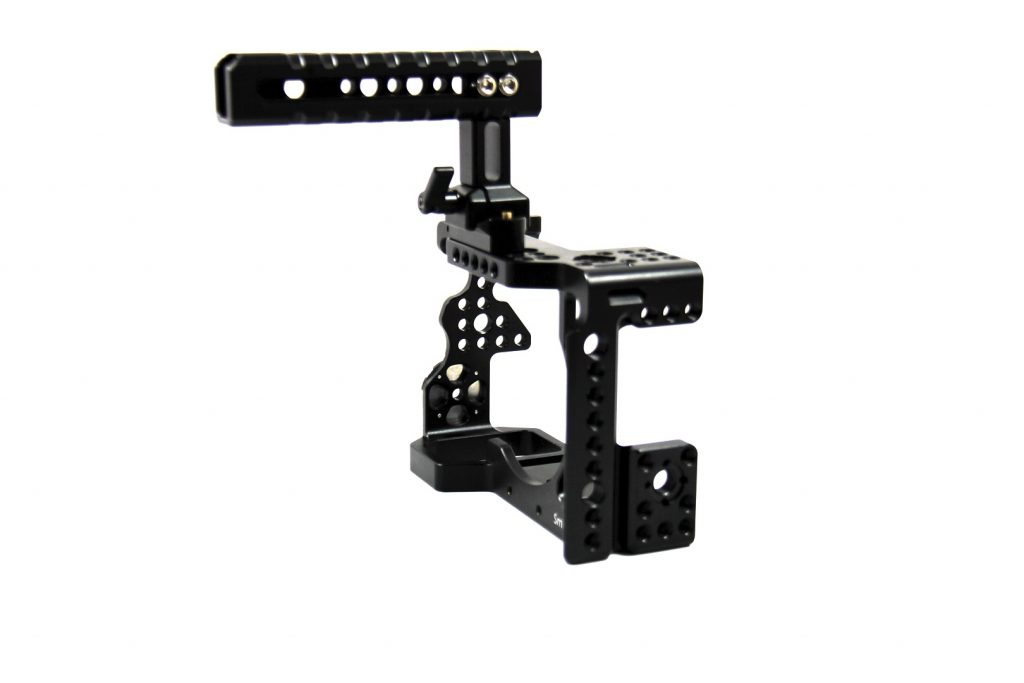 Why have I reversed my judgement? Its the flexibility I want that a camera cage can give me. Sure, for simple run and gun video podcast work, having a camera cage is not necessary, but for more steady shots and ones that require a bit more work, a camera cage is just a must. At the height of videoing at Computex 2017, I had to have so much more extra accessories at hand and attached to the camera.
A power bank to run the camera off so I didn't need to have 8-9 batteries with me and constantly changing them
A LED light to help illuminate faces and slightly darker areas
A 7″ LCD screen to ensure that the video was well framed and more importantly that the correct objects were 100% in focus
An audio mixer which allowed for 2 microphone inputs
A shotgun microphone
A wireless microphone receiver
As you can see that's a lot of extra equipment, and in no way could I have coped without the use of a camera cage.
We then come to why I love the SmallRig 1982 camera cage with the 1955 camera stabilizing NATO handle
. Firstly, both the cage and handle is very well built, I have accidentally knocked it a few times on hard surfaces and not only has it protected my camera, both hasn't the slightest scratch. Having the camera cage manufactured from one block on aluminium means there's one less possible noise when recording from loose screws. The latest edition of the camera cage for the Sony A7ii series camera from SmallRig also brings many well thought out design features which does not hinder your use of the camera, but enhances it with all its packed features.
The SmallRig 1982 camera cage and the 1955 handle comes in at a very affordable price of US$135.85 and US$48.00 respectively, making them a very attractive option indeed, with many competitors' similar option being priced nearly twice as much. Buy the Smallrig Cage
for the Sony A7II
camera from Amazon for USD $135.00
The only downside to the camera care which I reviewed is that the C2 button on your Sony A7ii would be hard to get your finger to, and that all screws are just metal on metal, meaning you really have to tighten then hard otherwise they will come loose. I've sprayed my screws with a bit of hair spray for extra grip, but ot would be nice if SmallRig had rubber washers on their screws.
I absolutely love my SmallRig camera cage and handle, and I've already invested on more modular bits and bobs for it (as you can see from the photos). I've added a 15mm rail system and lens holder to help support the extra weight of the longer lens I have, and an easy plate so that I can secure on any quick release plates of my tripods and video monopods. With the SmallRig system being so modular, I've already go my eye on a shoulder pad system and handles so I can carry the entire system on my shoulder for mobile recording.
Buy the Smallrig Cage
for the Sony A7II
camera from Amazon for USD $135.00
Take a look at our video going through some the basics pros and cons of this review:
<--Prev:
Smallrig Sony A7II A7RII A7SII cage kit review
Next-->:
Smallrig Sony A7II Series cage review